We Make a BIG Difference for Lake Area Kids
Lake Area Big Brothers Big Sisters is a mentoring program that helps local children between the ages of 6 and 14. Spending just an hour per week with a child who needs an adult role model can be life changing for the child ... and for you.
Don't have 60 minutes to give? Consider making a donation. All money stays local and helps support the Lake of the Ozarks Big Brothers Big Sisters program.
This program operates on 100% donations!
You Can Make an Impact

Thank You!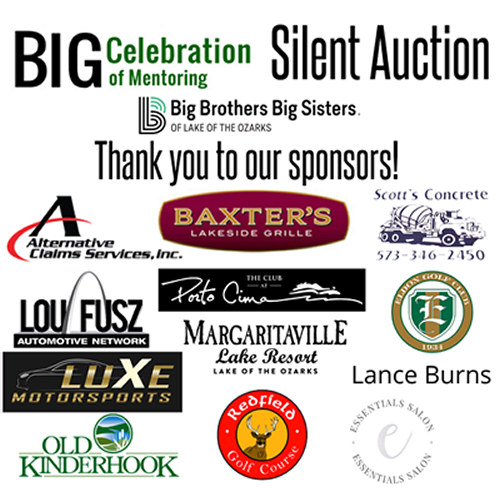 ---

Where the Money Goes
Donations made to the program are dedicated to funding background checks and monitoring the matches, as well as getting the word out about this important program at the Lake so we can serve as many kids as possible.
Why It Matters
46% less likely to start using drugs
27% less likely to consume alcohol
52% less likely than their peers to skip a day of school
30% less likely to engage in violent behavior
More trusting of parents or guardians
Less likely to lie to parents
More likely to perform better in school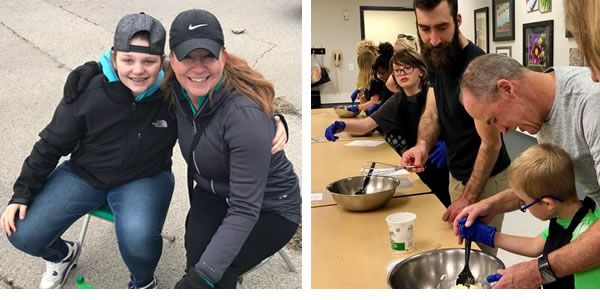 Local bigs and littles from around Lake of the Ozarks.
MALE MENTORS NEEDED
Our community based mentoring program is looking for male mentors!  Bigs/Mentors pick up their Littles and spend time with them once a week for about an hour doing things they already enjoy doing like hiking, going to lunch, fishing, or hitting a bucket of golf balls. Bigs work to change the perspectives of children and give them an opportunity to achieve great things. Learn how to get involved with Big Brothers Big Sisters of Lake of the Ozarks at lakebbbs.org. or call Alison Martin Program Coordinator (573) 348-5507 or email alison.martin@lakebbbs.org
8th Grade Little Brother
Loves the outdoors, loves fishing, kayaking, camping, swimming, basketball, football, video games, and listening to music. This Little Brother would love a Big Brother who is active and loves the outdoors as much as this Little Brother does. Lives in Camdenton/Osage Beach.
7th Grade Little Brother
Loves basketball, playing catch, hike, swim and video games. This Little Brother might want to be a journalist one day. He would love a Big Brother to play basketball, baseball, and likes the outdoors.  Lives in Camdenton.
6th Grade Little Brother
Loves the outdoors, loves animals, riding horses, boy stuff, fishing, football, and video games. This Little Brother wants to be a police officer when he grows up. He would love an active Big Brother who loves the outdoors, sports, and is up for an adventure. Lives in Lake Ozark.
2nd Grade Little Brother
This very active Little Brother loves swimming, fishing, and playing with friends. He is always up for an adventure and would love an active Big Brother who likes the outdoors. Lives in Camdenton/Lake Ozark.

"LUNCH BUDDIES"
School Based Mentoring The lunch buddies' program is designed to match students at School of the Osage Upper Elementary with an adult who truly cares about and will encourage the child's success.
We ask "Bigs" to meet with their "Littles" once a week during the school year. The meetings only take place on school grounds. Matches can play games, talk 1:1, or occasionally work on homework.
You get to be a positive adult role model to a child in your community for an entire school year by just talking and spending time with them during their lunchtime.
---
THANK YOU

September 14, 2021
What a fun filled afternoon of golf at The Club at Porto Cima, one of Missouri's best golf venues. Participants undoubtedly enjoyed the afternoon with the proceeds of participation benefiting Big Brothers Big Sisters of Lake of the Ozarks program.