Lake Area Big Brothers Big Sisters Makes a BIG Difference at Lake of the Ozarks!
Lake Area Big Brothers Big Sisters is a mentoring program that helps local children between the ages of 6 and 14. Spending just an hour per week with a child who needs an adult role model can be life changing for the child ... and for you. Don't have 60 minutes to give? Consider donating $60 to Lake BBBS. All money stays local and helps support the Lake of the Ozarks Big Brothers Big Sisters program.
This program operates on 100% donations!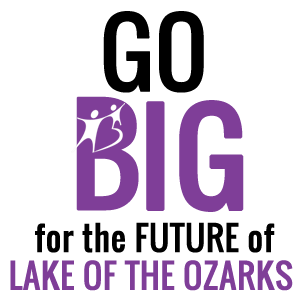 ---
According to a study conducted by Public Private Ventures, children who have a mentor in their life are:
46% less likely to start using drugs
27% less likely to consume alcohol
52% less likely than their peers to skip a day of school
30% less likely to engage in violent behavior
More trusting of parents or guardians
Less likely to lie to parents
More likely to perform better in school
"

MONDAY, JUNE 4, 2018 at Baxter's Lakeside Grill
from 5:30 - 8:00 PM
ORDER TICKETS ONLINE BELOW OR CALL ALISON AT 573-348-5507
Your donation of $60 to Lake Area BBBS gets you a ticket in the door, plus:

DELICIOUS HEAVY GOURMET APPETIZERS
SPECIALTY SAMPLINGS FROM THE CHEF
HOUSE WINE
DOMESTIC BEER
RAFFLE & SILENT AUCTION ITEMS

GET YOUR TICKETS TODAY!