Lake Area Big Brothers Big Sisters Makes a BIG Difference at Lake of the Ozarks!
Lake Area Big Brothers Big Sisters is a mentoring program that helps local children between the ages of 6 and 14. Spending just an hour per week with a child who needs an adult role model can be life changing for the child ... and for you. Don't have 60 minutes to give? Consider donating $60 to Lake BBBS. All money stays local and helps support the Lake of the Ozarks Big Brothers Big Sisters program.
This program operates on 100% donations!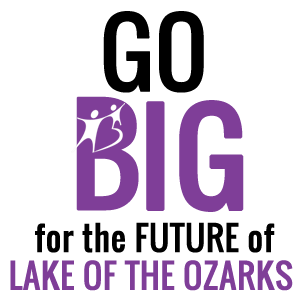 ---
According to a study conducted by Public Private Ventures, children who have a mentor in their life are:
46% less likely to start using drugs
27% less likely to consume alcohol
52% less likely than their peers to skip a day of school
30% less likely to engage in violent behavior
More trusting of parents or guardians
Less likely to lie to parents
More likely to perform better in school
DONATE $60 ... YES, JUST $60
Unlike many charity organizations, Lake Area Big Brothers Big Sisters has hard costs to keep the program running. We have to have apaid employee on our team who is trained and conducting background checks on BIG applicants, matching BIGS and LITTLES, monitoring the school-based program, monitoring the relationships between the BIGS and their LITTLES monthly, as well as documenting and reporting ALL activity. As you can imagine, this is a large effort and it's essential because we are dealing with children. We also host a few events per year where all of our BIGS and LITTLES can enjoy spending time as a group. We get as much donated for these events as we can, but there are typically costs associated with venues and host facilities.
So yes, if you can't give 60 minutes per week, giving just $60 WILL make a difference and help us keep this important program alive.